Almost nothing underneath



Dua Lipa wears see-through dress at Barbie premiere
Even "Barbie" leading actress Margot Robbie causes a stir with her dress at the world premiere of the film. But singer Dua Lipa even more: In a transparent dress, she attracts attention. And not only is the dress transparent – she's also not wearing a bra underneath.
It's not easy to stand out among all the stars at the "Barbie" world premiere in Los Angeles. Singer Dua Lipa nailed it with a sheer chainmail dress. Underneath she wore only a white thong. She didn't wear a brassiere.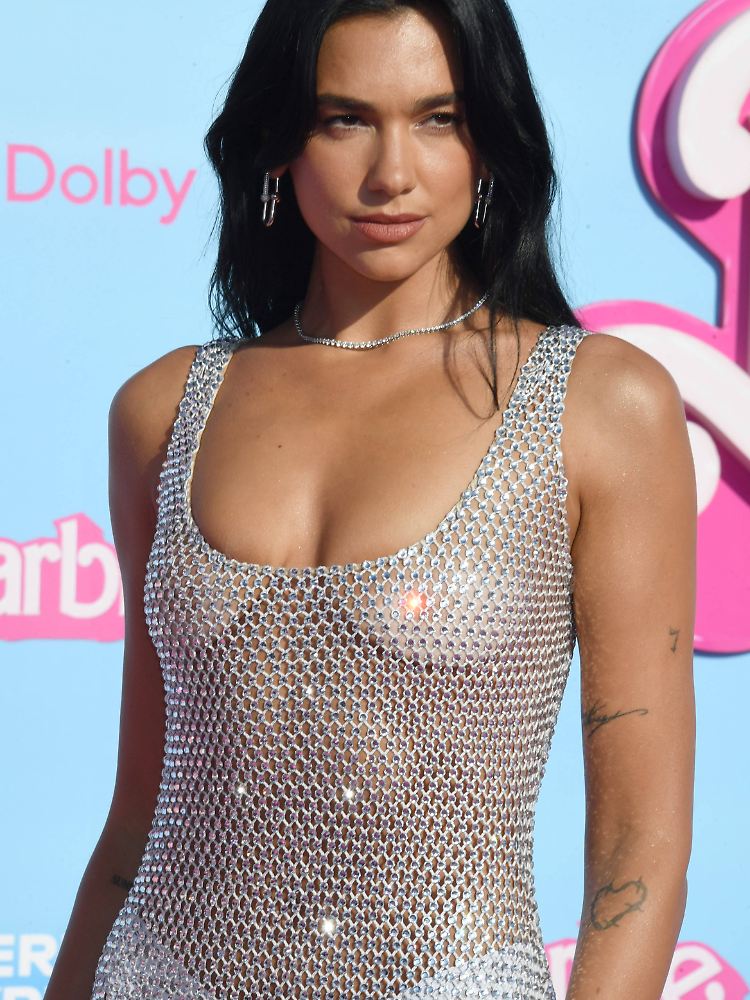 The Grammy winner walked the pink carpet at the Shrine Auditorium on Sunday in a fitted, sleeveless chainmail dress that gleamed in the sun. The sheer material revealed that Dua Lipa was only wearing white briefs underneath. The dress has a deep round neckline on the front. It's also very low-cut at the back, as the singer showed photographers through her poses on the pink carpet.
She had also combined silver accessories: a pair of closed high heels, earrings and a sparkling rhinestone necklace. For the glamorous make-up, she chose a matte lipstick in a nude tone.
Dua Lipa is represented twice in the "Barbie" film, which starts on July 20 in Germany: she appears as a mermaid Barbie and contributes music for the soundtrack. Their song "Dance The Night" is the lead single from the film album and was officially released on May 25th.
Margot Robbie in black instead of pink
And not only Dua Lipa, also leading actress Margot Robbie caused a styling surprise at the "Barbie" world premiere. The Australian actress and her stylist Andrew Mukamal had come up with a real fashion highlight: she appeared in a detailed imitation of the glamorous "Solo in the Spotlight" Barbie from 1960 and surprised with a black evening dress instead of the usual pink.
Accompanied by Ken actor Ryan Gosling in a pink suit, Robbie sported a glittering couture dress by Schiaparelli. The strapless bustier dress is covered all over with black sequins. The fitted, fitted midi-length dress ends in a voluminous jet black tulle tutu skirt with a red rose attached like the original 1960 doll. Stylist Mukamal shares a side-by-side comparison of Margot Robbie's premiere look and the glamorous Barbie doll on his Instagram channel.